In this article, I'll teach you how to start a travel blog in about 30 minutes tops, and for less than $70 total. Get ready to change your life….
So let me lay it out, step by step here,
I should add I'm AWFUL with technology, so if I can start a blog and make it popular, and make great money from it every month, as well as some 'free' trips as a perk, then you really, really can too.
I personally think everyone should have a blog, whether its a travel blog, fitness blog, lifestyle, fashion, beauty or anything. Worst case scenario is that it's a great diary of your life that you will have forever, and it gives you a voice, not to mention a great additional feature to a resume.
STEP 1. Choosing The Name of Your Blog
Put some real thought into it. Your blog can define your online persona, and it's here to stay. Here are some quick tips to keep you on the straight and narrow –
A) Don't  Pigeon  Hole  Yourself
The best advice I can give is to not pigeon-hole yourself with your blog name. "24yearoldtraveler.com" may sound good now, but next year it's already out of date! Equally, you might think superbudgettraveler.com is a winner today, but 5/10 years later when your travel style is a little more luxurious, your blog no longer fits you. Be careful.
Choose something you can mold into something else should you wanna do that later down the road. Try to keep it general so your blog can mature/evolve just as you do. For me FitGypsy allows me to do that, it blends my fitness and outdoor lifestyle with my growing flair for travel and exploring.
B) Be  Professional
When it comes to working with big brands, luxury hotels and creating products – these businesses don't want to be aligned with dubious bloggers so anything referencing drugs, getting drunk, profanity isn't cool, because big brands refuse to work with vulgar and immature bloggers with bad branding. Choose something more professional. Think ahead.
STEP 2. Getting Your Blog Online. 
First I'll explain how it works, then I'll take you through step by step….
To get your blog online you need to set up hosting (see the next paragraph) and you need to buy your blog name (this is referred to as your Domain Name). It's much better and easier to use the same company to both buy your domain name, and set up the hosting. Then when you have any issues, you only have one point of contact.
Hosting your website.   Hosting your website essentially means 'renting' the space on the internet that your blog will appear on. In the same way you may rent your apartment to live in, you have to rent the space for your blog to live in. Easy peasy. There are lots of companies – GoDaddy, HostGator etc and having used tried, fought with and left them all,  I would only ever recommend, BlueHost. Their rates are super cheap at between $3.95 and $5.95 per month. They also offer a 30 day money-back guarantee, they have live chat to talk you through your tech problems (something I often need!) AND they let you have your domain name for free when you first register! Winner!
Buying Your Website: If your website is available (no one else has registered it before), then you buy the rights to the name, for example 'YOURNEWTRAVELBLOG.com'. This roughly costs around $15 per year.
Find your domain here-
Once you find your domain, buy it and set a password. Now already you've sorted out your domain registration (you've bought your blog name), and your hosting (you've rented the online space for your blog), you're ready for it to actually be live, on the internet and look like a blog. Awesome, well done so far
Ok, so how do you add WordPress, let me give you some screenshots to avoid confusion:
PART A) Bluehost has implemented a new feature that automatically installs wordpress as soon as you register for hosting.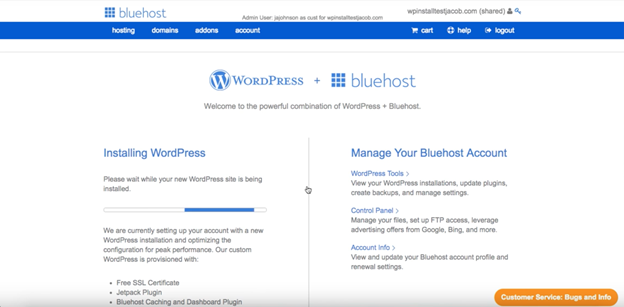 PART B )
After WordPress is installed, input your domain name in the Edit Your WordPress Sites section.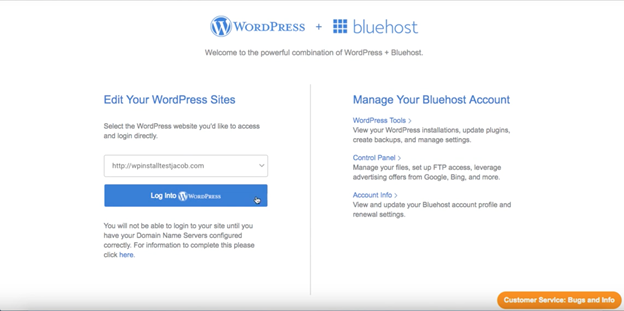 PART C )
Once you input your domain and password, you will be sent directly to your new blog's dashboard on WordPress.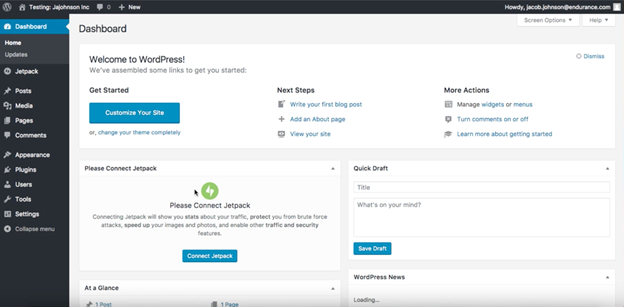 Your blog is now on the internet. Your site is LIVE. See that was much cheaper than you thought, much easier than you thought and much faster than you thought, right? Awesome. Next stop… Hawaii. Ok ok, not yet, but you're on your way!
STEP 4. Logging into your Site and Designing Your Blog
Now you need to install a design (referred to in WordPress as a 'theme') for your new blog. You've sorted out your hosting through BlueHost, now you have to renovate your site (by adding a theme on WordPress). If you to go to the URL (remember that the full version of your site, like https://www.thefitgypsy.com for me, or http://www.YOURNEWTRAVELBLOG.com), you'll see a super basic website. Now you need to make it a little sexier.
PART A)
Now go to: http://www.YOURNEWTRAVELBLOG.com /wp-admin…
Use your username and password from Part G in Step 2 and sign-in to the backend of your sexy new website…
he 'Back End' of your blog is like the control centre, where you can edit everything, publish blog posts etc. Only you can access this, not your readers. We call this the 'Dashboard'
PART B)
Once logged into the backend of WordPress, you go to the sidebar in the left hand side, find 'Appearance', hover over it, and click 'Themes' when it pops up.
There are hundreds of free themes you can choose, so choose one you like the look of, hover over it, and click activate. Don't worry, none of this is permanent, so you can try a few out, once you've chosen one and clicked activate, go to the address bar, type in your new website URL http://www.YOURNEWTRAVELBLOG.com and you can see your new theme. Done.
Choose a free theme, and click 'activate'
PART C)
All's left now is to publish your first blog post, so go back to that black side bar on the backend of your wordpress, hover over 'all posts', click on 'add new'. Then title your blog post 'My first post yaaaay!", and in the subject box write something like "This is where my new life begins….", click publish on the right hand side.
Now go back to the live version of your new blog onYOURNEWTRAVELBLOG.com!! And it's live, CONGRATULATIONS!
PART D) Plugins
Plugins are useful little widgets that make your blog a lot better. Like an area for people to comment on your blog posts, or a way for people to share your content via social media. You can see the 'plugins' in the left sidebar, but for now make sure you install all these free plugins:
Akismet – to stop spam
WordPress SEO – this will help you rank better in Google, you'll learn more about this in time
WPTouch – to make your site perform better on phones and tablets
Easy Social – so people can share your content via their social media
Contact form – so people can get in contact with you
Hope this was helpful, keep your eyes out for some social media and marketing tips, some very frequently asked questions and a tech glossary explaining all these weird tech words will shared soon 😉