How to get to The Great Wall of China from Beijing
The Great wall of China is an attraction worthy of all its hype, While it can't actually be seen from space, it's a spectacular man-made wonder best seen in person.
The Great Wall of China is a whopping 21,196 kilometers long, spanning East to West across China. The winding stone walls are connected by watchtowers that rise and dip over the country's hilly mountainside. It was constructed 2,000 years ago to deter outside invasions, though today it's invaded by millions of tourists trampling its paths 365 days a year.
Reach The Great Wall of China from Beijing
Many wall sections can be visited as a feasible day-trip from Beijing, China. Many are located in its suburban areas, including the well-preserved Badaling and Mutianyu, the renovated Juyonguan, Jinshanling and Simatai, wild Jiankou and Gubeikou. Not too far from downtown Beijing, about 1-2 hours on road.
Weekends are the WORST time for crowds, period. The peak busy season in China is generally from May to August, though Chinese New Year in February sets the entire country into a traffic frenzy. That doesn't mean a visit during these periods will be less memorable, as my trip to Jinshanling in June was. Ultimately where you hike is more important than when you go.
Sections of the Great Wall
Busy, accessible, easy, family/mobile friendly sections
Each of the sections of the Great Wall offers different sights and levels of accessibility. Take note, entrance fees are often waived if taking a tour.
No matter where you hike, bring lots of water, snacks, a hat, sunscreen and good shoes. There are farmers who will try to sell you overpriced water & souvenirs along your hike, but you'll save a lot buying those beforehand elsewhere.
The Badaling and Mutianyu sections are well restored, easy to access, and offer straightforward hiking. These options are quite mobile/family friendly. Because of this, they are the busiest sections of the wall. If you're short on time, Badaling is quickly reached by train/bus from downtown Beijing.
A few key notes to know about Badaling and Mutianyu sections –
They're both easily accessible from Beijing and are also the busiest sections. Entrance fee cost about 45CNY each.
Hike: Badaling section takes 3-4 hours from Badaling North to Watchtower and its quite easy hike. While Mutianyu section takes 3-4 hours from Mutianyu to Jiankou and its fairly easy.
The scenery at both the sections are impressive with vast views. Cable car options are available too.
Less busy but accessible sections with moderate hikes & great views
Jinshanling and Huanghua Cheng are a lot less crowded, though you'll still see souvenir shops & farmers trying to sell you bottled water along the way. These sections are only partly restored, so some parts are crumbling but still feasible to hike (Sturdy shoes are recommended, avoid flip flops).
A few key notes to know about Jinshanling and Huanghua Cheng sections –
Jinshaling is further away from other sections but fairly accessible while Huanghua is trickier to get from Beijing.
Hike : 3-4 hours for Jinshanling to Simatai route, moderate (steep at times) and 3-5 hours to Zhuangdaokou (Huanghua)
Entrance fee is 65 CNY and 45 CNY respectively.
Jinshaling has hilly, mountainous views, while Huanghua has an amazing lake with hilly landscapes.
Remote, unrestored, highly under-visited sections with epic views
These sections are for those who like to be REALLY off the beaten track, unfortunately I couldn't make it, definitely on the list. But I have sufficient information for you to get your hiking shoes on for this marvelous trek.
Jiankou and Zhuangdaokou sections are the remote sections of the Great Wall. As suggested by my acquaintances from Beijing.
Due to its unkempt state, this part is quite dangerous. It is technically illegal to climb but this is really not enforced. There are operational camps being run to these sections.
If dodging crowds is a key component in your visit to the Great Wall, then avoid Badaling like the plague. If you're pressed for time though, it's the most accessible option from Beijing. Mutianyu is less busy by comparison, but is still highly touristy given its ease of access, cable car, toboggan ride, and chair lift.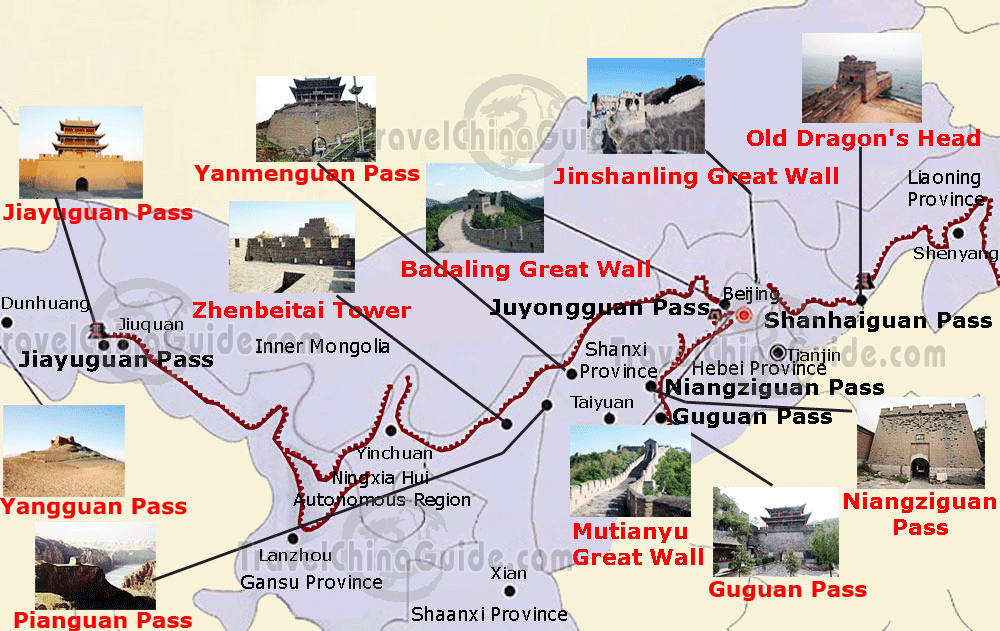 How to Get to the Great Wall of China from Beijing
Your options for getting to any of the sections include public bus, tour, taxi/private driver, or rental car. These range in price and effort, with DIY bus/taxi being the cheapest and most complicated, and tours being priciest but easy to execute.
Tours
A tour can be a great way to get a simple drop off and pick-up from the wall hassle-free. Alternatively, it can also be a day filled with stops at jade "museums" (i.e. stores), shopping, the lacklustre Ming Tombs, and plenty more add-ons. Put simply: choose tours wisely; do not book a tour for its cheap price alone. If hiking and adequate time at the wall are your priorities, you're best seeking a tour led by hostels or specialized tour companies.
Cost: Ranges depending on trip. 335-500 CNY ($55-$80 USD) for basic day tours
Taxi or Private Driver
Cost: Ranges from 500–1000 CNY round trip ($80-$160 USD)
A taxi, shared minivan, or car hire can be less troublesome and more cost-efficient if you're 2 or more travellers. You can book a driver in advance who can drop you off at one end of the section and pick you up at the other. Take note that approaching a taxi on the street may get you exorbitant quotes. It is recommended to book ahead or at to know the expected rate in advance.
Public Bus
Cost: Ranges by route, anywhere from 20-200 CNY ($4-$32 USD) for one way
With the exception of Badaling and Mutianyu, a bus trip to any of the Great Wall sections takes at least 2+ hours one way, and involves transfers.
I took a public bus from downtown Beijing Bus station express to Badaling section. Met a good family enroute and they were kind enough to direct me around.
SOME INFO:
1) DON'T GO TO THE GREAT WALL OF CHINA DURING ANY CHINESE HOLIDAY – IT'S A NIGHTMARE!
 The crowds are dictated by weekends, season (high season is May to August) but it's the section of the wall that you choose that really determines a number of crowds
2) When Was the Great Wall of China Built?
It wasn't built in one stretch, but over 4 different dynasties (or more).
First Great wall – built by the Qin Dynasty 221-207 BC
Second Great Wall – built by the Han Dynasty 205-127 BC
Third Great Wall – built by the Jin Dynasty 1200 AD
Fourth Great Wall – built by the Ming Dynasty 1367-1644
3) How Long Is the Great Wall of China?
It's 8,800km or 5,500 miles!
Here you can see how far it stretches across China: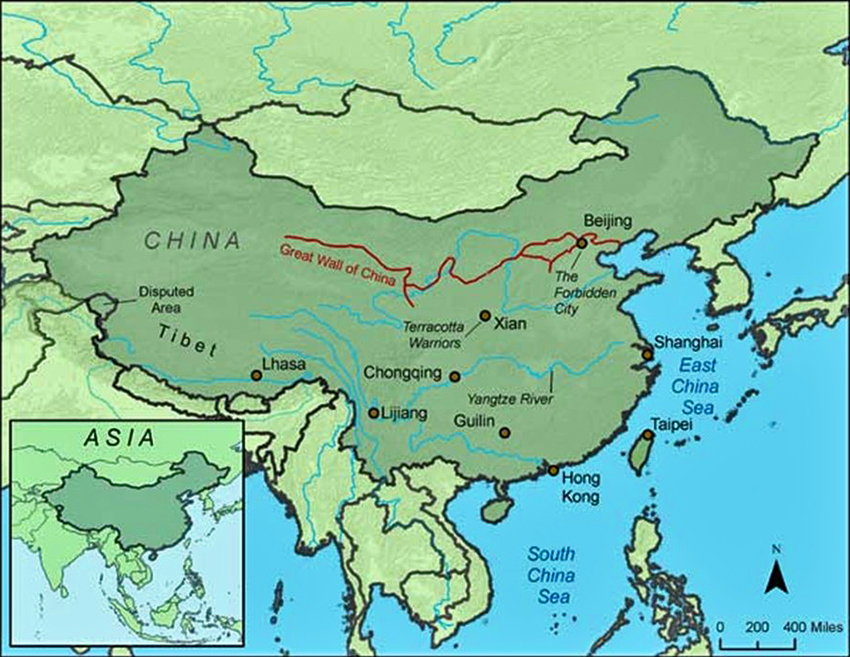 My experience with visiting the Great Wall of China from Beijing
I've been twice, once via public transport to Badaling, and once on a day trip to Mutianyu. It lived up to expectations for me, both times, but the experience will come down to waking up early and going before the crowds. I'd recommend going via public transport but getting the first bus/train of the day so you're literally one of the first people in the park. If you're lazy, hungover, or on a tour – you'll be in the midst of the crowds. These are a few good options to get to The Great Wall of China from Beijing.
For some additional travelling cues
Hope this blog was informational and looking forward to hearing your stories from THE GREAT WALL!
Need help planning your trip , REACH OUT!
Zhù nǐ yīgè hǎo xīnqíng!!